Scott Byram, Ph.D., R.P.A.
Project Efficiency and Enhanced Research through Interiography
As a consultant and a researcher, Scott Byram uses GPR to identify and characterize buried archaeological features and strata at known sites, to locate new sites and site components, and to clarify the locations of known significant sites that are buried or otherwise inaccessible. His approach, developed with Jun Sunseri of UC Berkeley, emphasizes the texture and form of subsurface deposits to discern changes in strata and constituents that represent features and other cultural deposits. For more information about the approach, see:
Site Interiography and Geophysical Scanning: Interpreting the Texture and Form of Archaeological Deposits with Ground-Penetrating Radar.
Journal of Archaeological Method and Theory
71:1-25, by Jun Ueno Sunseri and Scott Byram, on line at
http://rdcu.be/pwM5
Ground-penetrating radar is often the most effective non-destructive field technique in archaeology, and for the past eight years Byram has developed an expertise with this technique, enhanced by his breadth of experience doing fieldwork in diverse site settings. Worldwide, GPR is increasingly applied in archaeology to delineate strata and features at a vast range of sites. Byram has conducted numerous GPR projects in California and other western states, and as far afield as Hawaii and Europe. Even in the most limiting site settings there may be information to be gleaned from GPR survey. Few settings are unsuited to GPR survey provided focal deposits are relatively intact, not at great depth, and not saline. Archaeological GPR depth range is often comparable to typical excavation unit depth, and occasionally much greater.
​
Most of Byram's projects require two to six days of fieldwork, and each day in the field requires about a day doing analysis and report preparation. Byram often works in conjunction with archaeologists and agency land managers on historic preservation planning projects, using state of the art equipment manufactured in the U.S. by Geophysical Survey Systems, Inc., including the new SIR4000 controller and a 350HS digital hyperstacking antenna.
​
Site types where Byram has conducted GPR studies:Mission Era Adobes
: Mission San Juan Bautista, Mission Santa Clara, Sonoma Mission, Sanchez Adobe (Pacifica), Castro Adobe (Watsonville), Machado y Smith Adobe (Old Town San Diego).
Stone structures
: Palehua Site, Oahu, Hawaii; Peyre Blanque Magdalenian Site, Ariege, France; Old Town San Diego.
Shell Mounds and Villages
: Stege Mound, Contra Costa; West Berkeley Mound; Pruristac Village, Pacifica; Tseriadun, site 35CU7; Coquille River site 35CS1; Portola Valley sites; Quirosote, Año Nuevo, and Sunol among others.
Cemeteries
: Tribal cemeteries in Oregon and California; Rose Hill Cemetery, Black Diamond Mines.
Military Sites
: Monterey Presidio; Camp Castaway shipwreck post; Fort Ross Russian stockade, Presidio San Francisco.
Homestead Sites
in Yuba County, Mendocino County, Sonoma County, and Coos County, Oregon.
Historic Corrals
: Santa Clara University and Castro Adobe.
Historic Campus Buildings
at UC Berkeley, Santa Clara, and San Diego State universities.
Tunnels and Mining Features
: Forestiere Underground Gardens; Black Diamond Mines
Geology/Paleontology
: Port Orford marine terraces; San Andreas fault at San Juan Bautista; Holocene formations at the Oregon Dunes; Pliocene paleontology in Christmas Valley, Oregon; Basalt lava flows in Hawaii and western Oregon; limestone terraces in Ariege, France.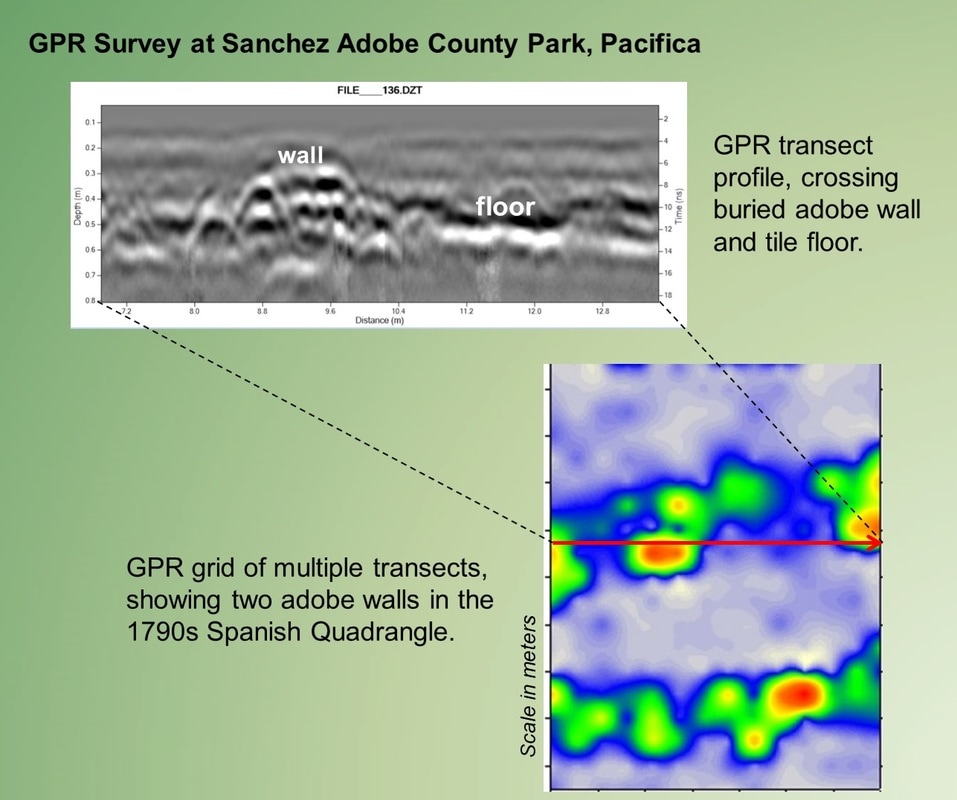 Contact: scottbyram@gmail.com
Phone: (510) 508-1five35



Header Image: GPR profile of buried 19th century cottage foundations under the lawn of the Faculty Club, University of California, Berkeley.